Korea is known for their spicy kimchi.  It is served with every meal, and if you ask any Korean they will tell you their grandmother makes the best kimchi.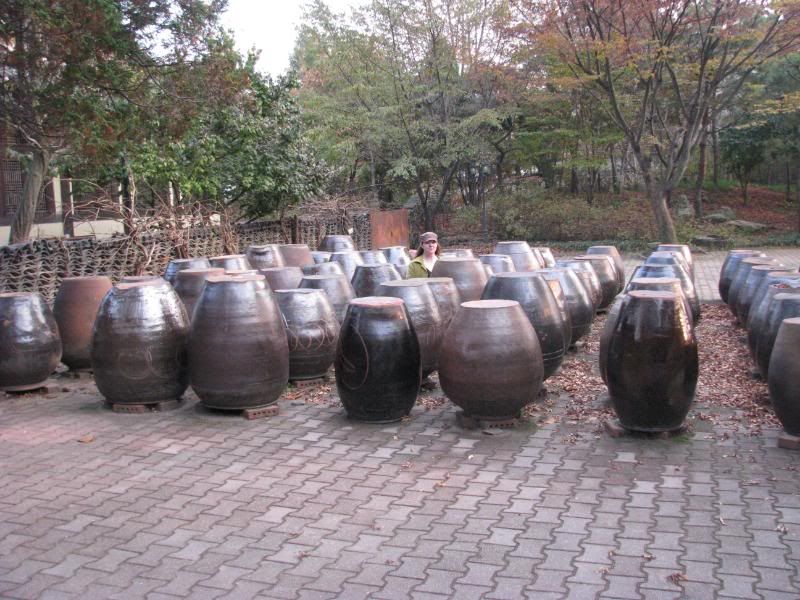 To make kimchi you must have a kimchi pot.  This is a pic of old upside down kimchi pots of different shapes and sizes.  You get the point of what they look like.   That's my little head in the middle…
The ingredients must soak first.  While walking in the night market of Dongdaemun we ran across this giant tub of cabbage being prepared for kimchi.   I thought it was hilarious they used a crate of soju bottles on top.   Onions will be chopped and added.  In the bowl to the right, you can't see, there is a huge pile of red pepper powder, salt and some other ingredients I couldn't recognize.
Once the cabbage is drained and spices are added, it will be placed in a kimchi pot and buried in the ground.
Kimchi can be eaten right after making, but is best when it ferments for at least 2 weeks.  I have heard that some kimchi is left as long as a few months.  Originally, kimchi was made to be consumed in the winter months when the crops weren't in operation.
There are over 100 different kinds of kimchi.  The most common is made from cabbage.  Other varieties include radishes, cucumbers, bean sprouts or onions.   My favorite kind is cucumber.
Kimchi is definitely not for everyone, but you can't come to Korea without trying it a few times.  Every restaurant has their own special recipe and it tastes different every time I eat some, which is quite often.  A good way to eat kimchi is hot, cooked on a grill.  Soo good.