It was the 2nd Annual Magic Festival held in Gunpo.  (Suri Suri Magic Festival) The weekend kicked off with fireworks! We could see them from our apartment window… very cool.
Saturday there was a parade, albeit a short parade, still fun to watch.  A stage was set up with entertainers.  Costume Animals were walking the area.  Food vendors were out in full force and we even had a guy give us a freshly made rice cake for free. We were walking by and this machine was making a loud POP noise.  Of course, we were curious.   This guy was sitting on the ground just laughing and having a good time.  Then, every few seconds, a rice cake would fly out of this contraption into a wire cage.  These rice cakes are kinda like the Quaker Rice Cakes from back home, but these are flatter and wider… and made fresh, right in front of us. We accepted the rice cake and it was delicious.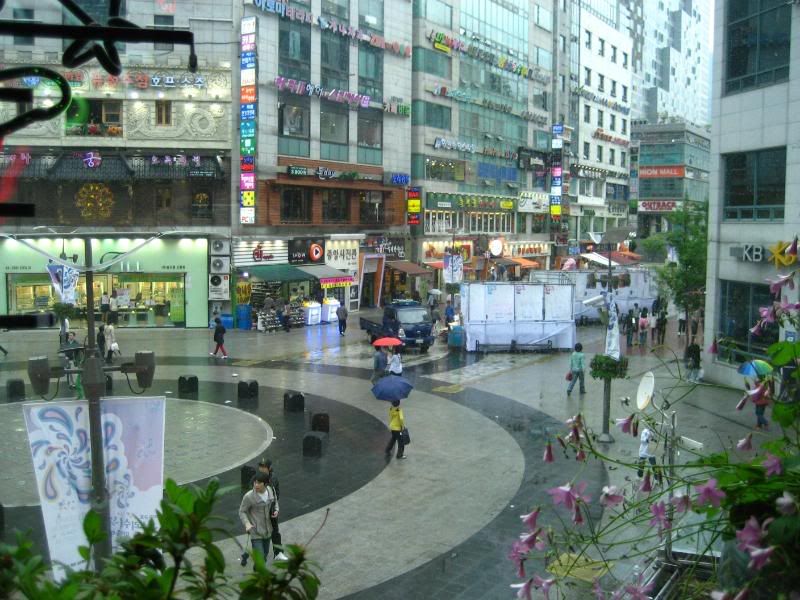 This is a scene of downtown.  We were taking a coffee break.  It was rainy but felt great outside.  I was hoping to see more "magic" or at least some tarot readers.  Seoul has many tarot readers, all over the city, so I expected them to be here too
Overall, it turned out to be a nice day for a Magic Festival.