The Seoul Museum of Art has an Andy Warhol exhibit. On Saturday, my friends and I decided to play culture vultures for the day and check it out.
Warhol was a print maker, filmmaker, producer and author.  He created beauty out of everyday iconic American products, claiming he liked boring things.  Some say that he even took common products and turned them into the iconic products we have in our minds today.
Andy Warhol coined the phrase "fifteen minutes of fame" because he thought even the smallest or most common things would all find their way into the spotlight at one point or another.
We waited in line for twenty minutes just to get a ticket, then waited another 20 minutes to enter the special exhibit area.  It was worth braving the cold to get a glimpse of this extraordinary collection.
To see the artwork, everyone had to stand in crowded lines.  Circling the rooms, we stayed three feet from the walls, looking at images of soup cans, Mick Jagger, Marilyn Monroe, Sylvester Stallone and other famous faces.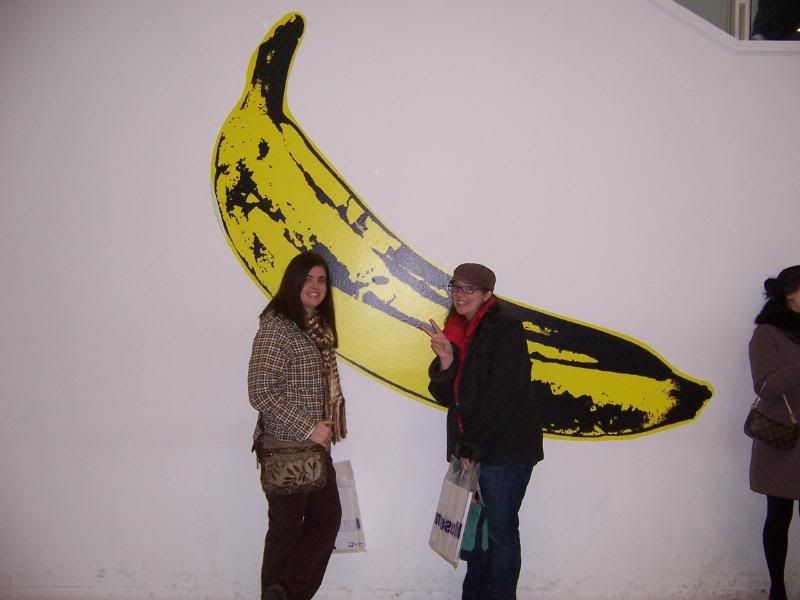 My friend Asten and I pose with The Banana. 
Directions:  City Hall Station.  Take exit 1 from Dark Blue Line 1.  Directly out of the subway you'll turn left and walk along a palace wall until you see the sign for Seoul Museum of Art.