What goes better with flying than kayaking?        Nothing I tell ya, nothing.
There is a company called Korean Safari that has weekend getaway trips to various locations in and around Korea.  This was my first adventure with them, but a bunch of people I know have highly recommended them.
Our trip was a 2-part weekend adventure: Flying and Kayaking.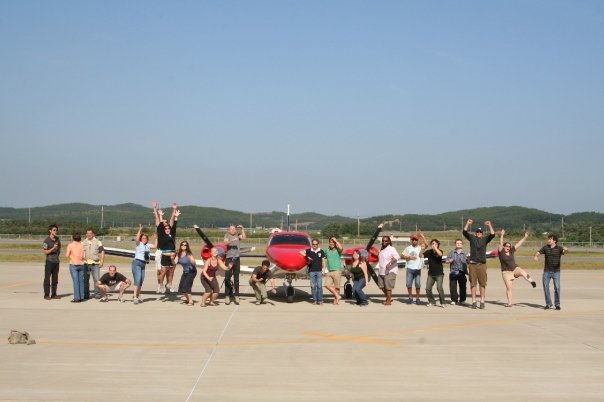 The Flying took place at Taen Airfield.  The Cessna 172 planes held 4 people and only one could actually fly.  Seth won 'Rock-Scissor-Paper' so he was the lucky one that took control of our plane for a while.  Flying around was a huge success.  I loved every moment.
The Kayaking took place on Baeksajang Beach.  Unfortunately this portion was Kayak-Fail.  Seth and I kayaked in the ocean for about 45 minutes, and we were some of the lucky few that spent a long time paddling around.  But the tour group leaders didn't plan ahead very well, and they had no way of getting the kayaks from the airfield to the beach.  So they took 3 trips in someone's car and brought only 6 kayaks to the beach.
This all took place in Anmyeondo region. Anmyeondo is a large island over 232.5 km long.  We stayed in a hostel-like place called Dream Beach.  It oddly reminded me of a 1950's Myrtle Beach.  There were small carnival games, giant umbrellas, and a mini-mart that sold ice cream and beer.