I love food.  So, why not go to the Food Week Expo?
Overall, a fun experience.   Big crowds, pushy old ladies, long lines, but the free samples of amazing Korean food made up for any of these annoyances.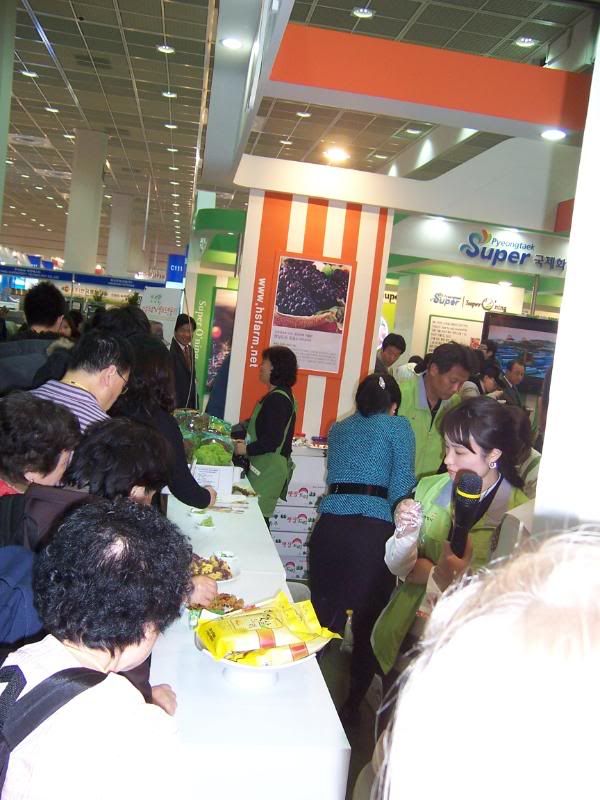 <– samples of rice cakes and salad with onions
It was only 3,000 Won to get into the Expo.  Located at the COEX mall in Samseong, giant exhibition halls hold events such as this.  So after eating delicious food, we went shopping. Win-win situation.
People wandered around getting into various lines and sampling mostly traditional Korean foods.  Such a good way to try new cuisine and drinks.
Organic food was a big part of this Expo.  Fresh vegetables, juices, and teas…. wonderful.
<— soo many mushrooms
Transgenic animals were even featured in this Expo.  I was surprised to find a bin of pigs and chickens in the back of a food expo.  How funny?!
These are animals that have heightened genetic qualities.  The pigs on display were possible heart transplant candidates.  The chickens were producing eggs that contained more vitamins in the white part of the egg.   I'm fascinated at what science can do these days.