Since moving to Korea, my eyesight has worsened.  I blame the insane amount of time spent in front of a computer screen. Overall, my eyesight isn't too horrible, but it's not perfect.
I get annoyed when I watch movies and they're not as crisp as they once were, even while wearing my glasses.  This country has soo many wonderful things to look at: bright neon lights of the cities, mountains, Koreans doing whatever Koreans do… I could go on.  My point is that I need to be able to see these wonders without having to squint.
The entire glasses-getting experience was great. While sitting on a bench by the subway station, I spotted a 2nd floor store that sold eyewear. I convinced Seth to help me pick out some new frames.
When inundated with too many choices, I freeze and tend to do nothing.  This being Korea, I knew that over a million pairs of glasses would be there waiting, only to confuse me.
I was right.
The glasses store was jam packed with a rainbow of frames in all shapes and sizes.  I don't know how anyone make a spectacle decision under these circumstances.
Not only did I need to pick out the perfect frames, I also needed to have my eyes examined.  I had no idea how these things were done here but I was hoping I could easily make an appointment or something.  Nothing could have been more simple.   One guy spoke English in the store and so he was assigned to help us out.  I told him I needed an exam.  Quickly I was placed in a chair and stared through tiny holes with a green image of a grassy hill.  The image kept going in and out of focus.  Then he placed these weird black glasses, with the left eye blacked out, on my head and had me read an eye chart.
On a funny note, the eye chart was half in Korean and half in English letters.  He first pointed to the Korean side and I sounded out what he pointed to which only made him laugh and then he said "Oh, sorry" and pointed to the English letter P instead.  Then he started dropping various lenses into the frames until I could read the entire chart.  Repeat for the opposite eye.
Then, as if a miracle, in under 3 minutes, I was reading signs outside of the window on the buildings across the way.  Never have I experienced such a strange eye exam.  Technically, it wasn't an exam because; it didn't test for things like glaucoma or stigmas.  However, a prescription in hand to pick out glasses is not necessary.  Wonderful system.  Even more spectacular is that the service is free.
Luckily, we picked out frames in a record time of only 15 minutes.   Another 15 minutes later, my new glasses were ready to wear out of the store.  In and out in about 45 minutes!!!  Lens Crafters has nothing on these guys.  I even received a nice hard case and soft cleansing cloth.  What's even better is that my awesome pair of glasses only cost $80… total.
No insurance, no paperwork, no appointments, no hassle.  Walking in off the street and getting new affordable glasses.   Fabulous.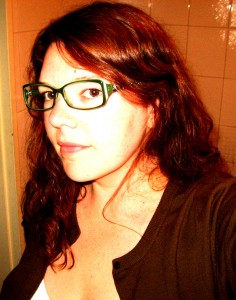 <— I just wanted you to see the green color of the frames.