I took a weekend trip with some delightful girls.  Fabulous time.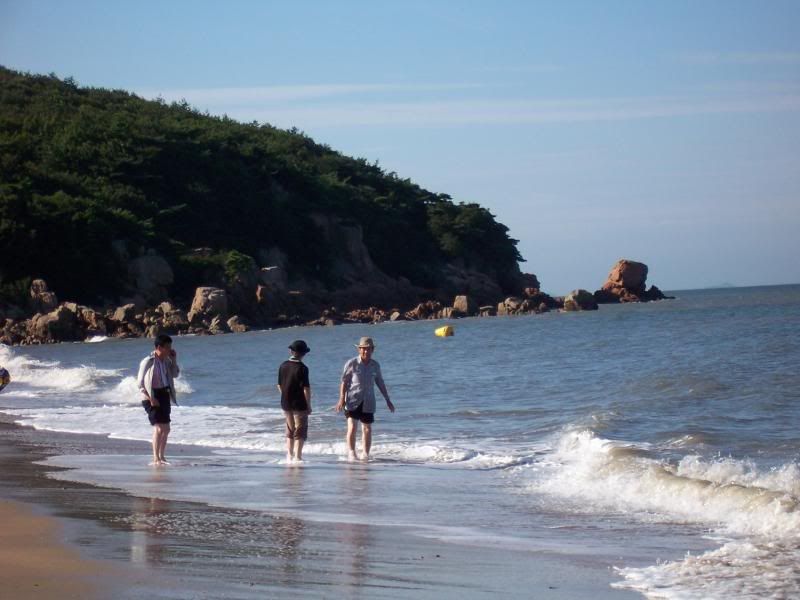 Muuido Island was 2 1/2 hours away from Sanbon, a bit West of Incheon… soo worth the travel time on the subway, bus, ferry and another bus.  Hanagae Beach is this tiny beach with an extremely low tide, as in 2K of low tide sandy nothingness.  I loved the rocky cliffs and had fun exploring a few of the rock areas.
The jellyfish were insane.  On the ferry ride, we could see giant jellyfish floating around.  I am not kidding when I say that some of them were bigger than me!
Upon arrival, I was shocked to see soo many Westerners.   It certainly wasn't any Myrtle Beach or Daytona… thank goodness.  But adding to the 50, give or take, Westerners were Koreans dressed head to toe in hiking gear, swimming fully clothed, clamming in the low tide area, mud wrestling, and spinning until they fall down.   Such a great place to people watch.   I read a book, lounged, sat by a bonfire, ate sooo much ice cream and got sunburned.  The lobster family has welcomed me in with open claws.